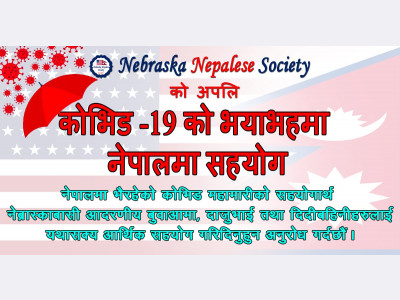 कोभिड -19 को भयाभहमा नेपालमा सहयोगको लागि अपिल!!! नेपालमा भैरहेको कोभिड महामारीको सहायोगार्थ नेब्रस्काबासी आदरणीय बुवा आमा दाजुभाई दिदीबहिनीहरु लाई यथा सक्य आर्थिक सहयोग गरिदिनुहुन अनुरोध गर्दछौं! सहयोगको लागि उठेको सबै रकम May 31st, 2021, (...)
Details
at 06:00 pm - 09:00 pm
Little King, 5490 N 90th St, Omaha, NE 68134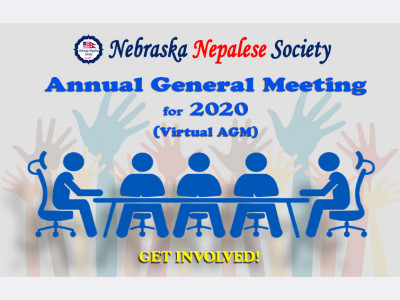 आदरणिय नेब्रास्कावासी वुवाआमा, दाजुभाई, दीदीबहिनीहरु एवंम सस्थाका सबै तहका पदाधीकारी ज्यूहरु !!! आगामी February १३ तारिक शनिबारका दिन विहान 11:00 बजेदेखी सम्पन् हुन गइरहेको संस्थाको साधारणसभामा सहभागि भईदिनुहुन हार्दिक आमन्त्रणा गर्दछौ l (...)
Details
at 11:00 am - 02:00 pm
Zoom Meeting (Vertual Meeting Room)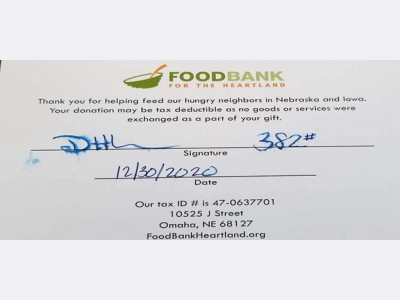 नेब्रास्का नेप्लिज सोसाइटी अमेरिकाको संयोजनमा Foodbank for the Heartland संग हस्ते मा हैंसे गर्ने उद्धेश्यका साथ Food Donation गर्ने निर्णय अनुसार सम्पूर्ण नेब्रास्काबासी नेपाली दाजुभाई दिदी बहिनीहरु, संस्थापक ज्युहरु, पूर्व प्रेसिडेन्ट ज्युहरु, पूर् (...)
Details
at 10:00 am - 12:00 pm
Omaha, Nebraska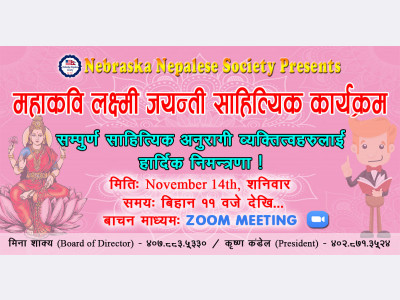 We heartily invite all literary fans to participate in a special program of Mahakabi Laxmi Jayanti organized by Nebraska Nepalese Society America. Date and time: November 14th from 11:00 am Speech Medium: Zoom Meeting (The link of Zoom Meeti (...)
Details
at 11:00 am - 01:00 pm
Zoom Meeting (Vertual Meeting Room)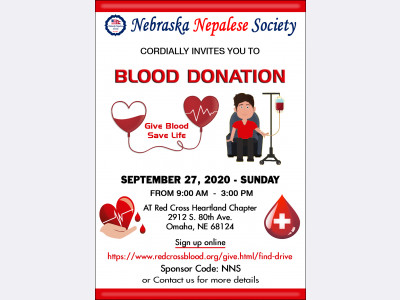 Give Blood Safe Life. Respected all Nepalese Nebraskans and well-wishers!!! We cordially request you to sign up by clicking on the link below to donate blood for the blood donation program that is going to be held on Sunday, September 27th, 2020. (...)
Details
at 09:00 am - 03:00 pm
American Red Cross Heartland Chapter, 2912 S 80th Ave., Omaha, NE 68124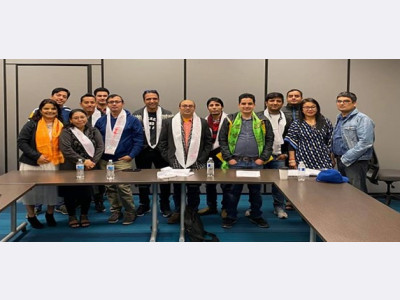 We'd like to invite you all to attend BOD's meeting planned to be held in the following time and location: Sump Memorial Library 222 N Jefferson, Papillion, NE 68046 March 7, 2020, Saturday @ 12:00 noon. Agenda: Nebraska Nepalese Socie (...)
Details
at 12:00 pm - 01:00 pm
Sump Memorial Library, 222 N Jefferson, Papillion, NE 68046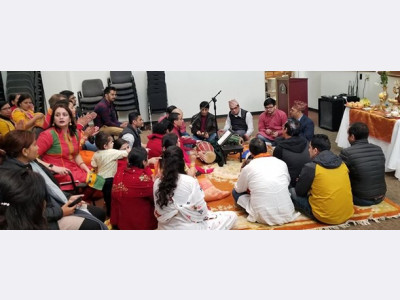 February 22, 2020, Saturday, Nebraska Nepalese Society will organizing "Maha Sivaratri Celebration - 2020" event. NNS cordially invites all Nepalese Nebraskans and well-wishers at Hindu Temple Omaha, Nebraska.
Details
at 08:00 am - 04:00 pm
Hindu Temple, 13010 Arbor St, Omaha, NE 68144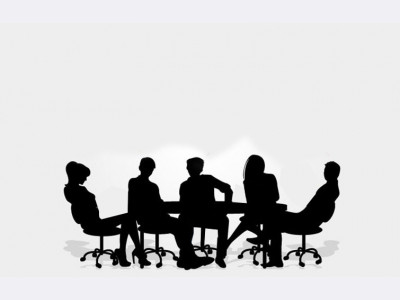 नेब्रास्का नेप्लीज सोसाइटी अमेरिकाको साधारण सभा तथा अधिवेसन आगामी January 11th, 2020 Saturday हुने भएकोले सम्पूर्ण पदाधिकारी, संचालक सदस्य, सल्लाहाकार, स्व्यमसेवक, पूर्वपधाधिकारी एवं इच्छुक नेब्रास्काबासी नेपाली दाजुभाइ तथा दिदिबहिनीहरुलाई गरिमामय उप (...)
Details
at 01:00 pm - 04:00 pm
Bellevue University (West Campus)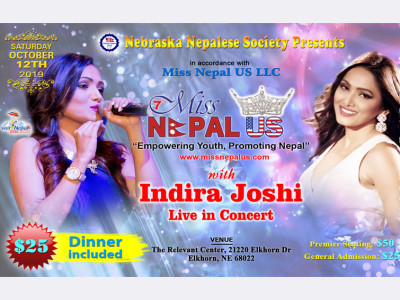 We thank you for your continuous support to NNS. This year NNS is presenting Miss Nepal US in Omaha, a beautiful city of Nebraska on Saturday, October 12th on the occasion of Dashai and Dipawali. To entertain our audience at most, we are inviting IND (...)
Details
at 05:00 pm - 11:00 pm
The Relevant Center (21220 Elkhorn Dr, Elkhorn, NE 68022, USA)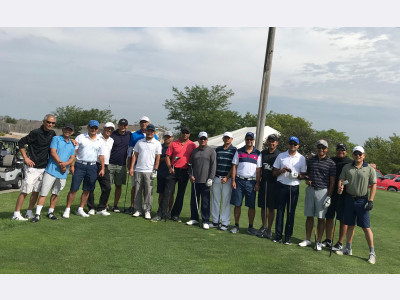 This year we had 17 golfers committed to play as scheduled and committed date. Thank you all golfers who attended our annual NNS GOLF TOURNAMENT 2019. Winner Announcement 1st place - Gyanendra Bhandari 2nd place - (...)
Details
at 11:00 am - 05:00 pm
Stone Creek Golf Course, 6220 N 160th Ave, Omaha, NE 68116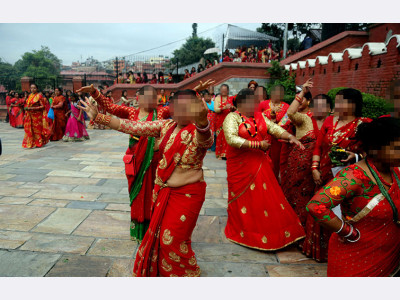 Teej Celeberation & Dahar Khane Event. All Nepalese Community Members and Families welcome!!
Details
at 04:00 pm - 10:00 pm
Hindu Temple ( 13010 Arbor St Omaha, Nebraska 68144)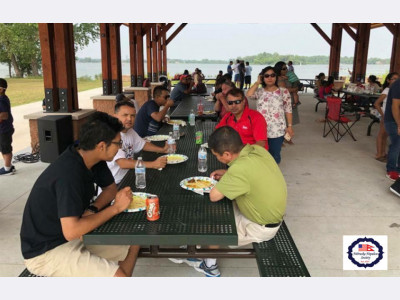 Join us on Saturday, July 27th from 10:00 am to 5:00 pm for the NNS Annual Picnic at Lake Manawa. Enjoy an afternoon of delicious Nepalese & Indian food, drink, music, and activities for all. NNS (नेब्रास्का नेप्लीज सोसाइटी)ले यस वर्षको A (...)
Details
at 10:00 am - 05:00 pm
Lake Manawa State Park Shelter # 7